At the heart of Spain's forgotten interior

In central northern Spain, at the eastern end of Castile and Leon region, Soria is Spain's least densely populated province, lying about two hours from Madrid and approximately halfway between Santander and Valencia.

La Casa de Adobe is located in Valdemaluque, a quiet little farming village nestled in the river Ucero valley, just a stone's throw from the Cañón del Río Lobos Regional Nature Reserve (6 km) and the cathedral town of El Burgo de Osma (10 km).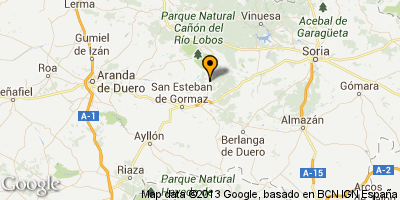 Click on image to open Google map in a new window

We are surrounded by roaming open countryside, mountains and moors, with vast swathes of oak, juniper and pine forests, and close to protected areas of great ecological value.