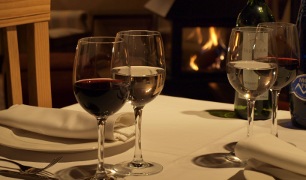 Set meals

Our set evening meals change every day according to the season and the preferences of the guests who are staying with us.

We offer an original combination of the best of Sorian specialities, Enca's own favourite recipes, and a touch of British influence.

Our set meals consist of an appetiser, starter, main course and dessert. Bread and water is included, but other drinks are apart.
Ribera del Duero wines from Soria

To accompany your food we have a range of excellent Spanish wines, particularly reds from local vineyards with the 'Ribera del Duero' D.O., like 'Silentium' by Bodegas Castillejo del Robledo, and a super local dry white 'Valdebonita' by Bodegas Rudeles.

We also offer local 'Arevaka' brand craft beers made in El Burgo de Osma.
British-style desserts

No-one can resist our tasty British-style desserts, like 'Sticky Toffee Pudding', a light sponge cake served with a hot toffee sauce, or 'Apple Crumble', baked fruit with a crumbly short pastry topping served with fresh cream.
To round off the evening

What better way to end the evening than to sit around the fire and enjoy a quiet drink. We can offer a range of alcoholic and non-alcoholic beverages, and have an extensive choice of fresh herbal teas.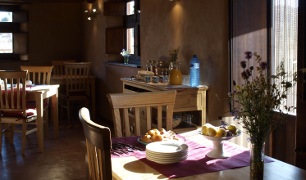 Hearty breakfasts

Get the day off to a good start with a relaxed breakfast dappled in the morning sun.

We offer a selection of fresh fruit, cereals, home-made yoghurt, toasted bread with butter and jam or olive oil, ham and cheese, and home-made sponge-cake and biscuits, accompanied by fruit juice, coffee and teas.
Picnic lunch

If you plan to stop somewhere along the way and find an idyllic spot for a picnic lunch, we can pack you off with sandwiches, rolls, fruit, water, soft drinks, snacks, cheese, nuts...
Facilities for caeliacs, vegetarians...

Sometimes it can be hard to eat away from home when you have special dietary requirements, allergies, or just prefer to follow a vegetarian or vegan diet.

At La Casa de Adobe we are used to adapting our meals to cater to our guests' demands.

Let us know beforehand exactly what you need and we will do all we can to meet your specific needs.